Benefits of an Origin Bank debit card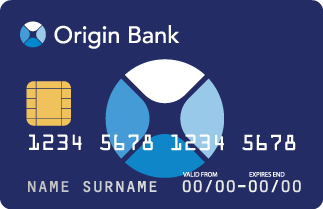 Portable access to your account funds
Secure and personalized PIN
More convenient than cash or check
Easily access funds with our convenient debit card
Origin Bank Debit Card
The Origin Bank debit card is directly linked to your checking account. Debit cards are often considered safer and more convenient than cash or personal checks. By simply swiping your debit card and entering your unique PIN, you can make purchases quickly and easily. Your debit card can also be used to withdraw cash from Origin Bank ATMs (for free) or from other ATMs (for a small fee).
Learn more about debit card accounts by visiting our personal checking account page. 
Debit Alerts
Sign up for Origin Bank debit alerts to receive text or e-mail notifications of account activity. You can customize your notification settings to receive certain types of alerts, such as out-of-state transactions, card status changes, or funds transferred. Debit alerts are a free service for any Origin Bank customer with a checking account.
SecurLOCK
In addition to Debit Alerts, Origin Bank also provides fraud protection services through an automated Short Message Service (SMS) which sends a short message, or text message, to all mobile phone numbers listed on your account. The text message will contain Origin Bank's name, the last four digits of your account number, and information about the suspicious transaction which triggered the fraud alert. Additionally, it will provide you with options to confirm the activity as valid or as unrecognized. 
For more information, please take a look at our SecurLOCK FAQs.
---